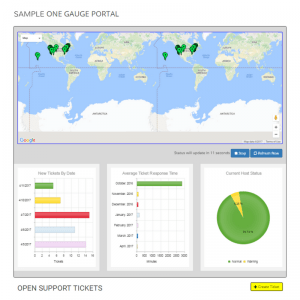 The right IT infrastructure partner has the potential to help you reduce overhead costs, leverage economies of scale and minimize IT headaches. You can even turn your IT services program into a revenue-producing part of your business. Astound Business Solutions Powered by Digital West is a multi-service technology infrastructure provider that works with business owners like you to provide turnkey solutions to all of your locations. Through our global network of data centers, we deliver connectivity, telephone, cloud services, security and a host of other critical digital solutions. We take the hassle out of setting up new locations and make improvements to those that are already up and running so that they experience less downtime, less need for tech support, and increased productivity.
Common Tech Challenges & Trends
Inconsistent Customer Experience: Business owners are often unable to deliver a consistent customer experience across multiple locations because each location requires multiple tech providers (e.g., phone, Internet, wifi) whose services vary in ability, quality and price.
Variable IT Set-up: IT implementation problems vary from location to location making it nearly impossible to find economies of scale. That means more time spent trouble-shooting tech issues instead of building the brand and your revenue.
Lack of Operational Visibility: Business owners want the ability to see and monitor operations across all locations, yet there is no single platform that provides this visibility.

Percent of small businesses that don't have a cyberattack response plan, even though 63% have been victims of an attack.
National Federation of Independent Business
Cloud Data Storage and Backup: Make it easy to access all data and management systems over the web via the cloud. A reliable cloud-based system with a robust backup system can create real-time uniformity in your business's data.
Cyber Security: Security brings a different type of reputational risk for business owners, especially in the case of a breach in customers' personal information. When data is not protected, every business's operation can be at risk. Investing in data security (for example, safer security assessment and monitoring programs, better payment technologies) is a priority for all business owners.
How We Can Help
We have the core technology infrastructure and support resources to take your business where you want to go. Our data center is SOC 2 Type 2 certified and our cloud services let your employees stay connected with real-time, shared data. Our reliable, ultra-high-speed fiber optic Internet is extremely reliable designed to quickly and securely deliver even the most sensitive data, and you can count on our live, US-based Customer Service Team to be there when you need them, 24/7. Here's what you can expect:

A Consistent Experience
No more dealing with multiple providers that differ from location to location. We have vendor relationships with every major carrier in the US, and we can get discounted rates you're not likely to get on your own. You'll get the same, quality experience each time you roll out a new location (or upgrade an existing one). From installation to support to billing, you'll know exactly what to expect. Rinse, repeat. And because you're working with just one provider, you'll gain significant pricing advantages.

Internet. Phone. Cloud. Just One Provider
Internet, telephony, cloud services, security, wifi all delivered by a single, respected provider, all on one monthly bill? Yes, your dreams have come true! Not only that, but when you work with us, we'll have direct access to all your systems — the buck stops here. If there's a problem, we're on it. No more finger pointing from one vendor to another!

When's the last time you felt good about the customer service you received from your cable or telecom provider? That's all about to change. Our technicians are trained on customer service, timely resolution of issues and troubleshooting. When you call in regarding an outage, a technical question or to bounce an idea off of us, our main priority is to answer your questions fully and resolve any issues.

According to the Ponemon Institute (2014 Cost of Data Breach Study), a data breach can cost a business an average of $5.58 million, including costs for lost records, legal defense, settlement costs, notification costs, credit monitoring costs for those affected. In order to meet strict security standards and policies, many franchises have turned to us to create a secure private network. We'll also scan your systems for vulnerabilities, upgrade your hardware, and proactively monitor your network for malicious activity.

We have the most sophisticated software available to manage backups of your desktops, laptops, file servers, as well as Exchange, SQL and other complex databases. You can take advantage of our colocation facilities and virtual resource pool to scale your resources up and down quickly. We enable clients to meet compliance standards, maintain strong network security, and sleep soundly at night knowing their data is stored and backed up nightly.

Complete Visibility Across Locations
When you join as our customer, you'll have access to our service portal, One Gauge. But this isn't just any 'ol portal, you'll be able to monitor ALL of your IT operations, from bandwidth utilization to backups to website content, all in one place. You can look location by location, or roll up all the data into one report. When a location claims their Internet is down or slow, you can quickly see all their systems and devices to determine if and where the problem originates.
Want more? Our expertise lies in taking a high-level view and showing you where you can make game-changing improvements that will positively impact your bottom line. Thinking about offering branded TV? Want a dashboard that shows key operations activities across locations? Need to leverage your digital advertising spend to produce measurable ROI? We can help with these needs and so much more.
Our Clients