Digital West Network Operations Center (NOC) technicians are trained on customer service, timely resolution of issues and troubleshooting. When you call in regarding an outage, a technical question or to bounce an idea off of us, our main priority is to answer your questions fully and resolve any issues. We truly care about you as our customer and want to help you solve any problems you encounter.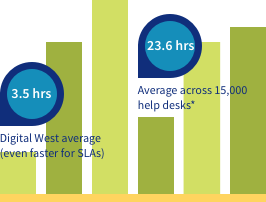 Help Desk Average First-Response Times
*Zendesk 2012 Benchmark Report
Unlike many of the big telecom companies, Digital West has a variety of ways to get you back up and running quickly, including tech support from real, live actual human beings 24/7/365!
We run a 24/7/365 operation, so whenever you call you can be assured you'll reach a live person and not be forwarded into an endless automated phone tree.
To help us resolve your technical issue in a timely manner, include the following information in your email or call:
Your Name and Company Name
Explain the issue in full detail, including any steps you may have taken to attempt remediating the problem yourself
Any previous or recurring issues that may be related to the problem
Any other information that may pertain to the problem or assist the NOC technician in diagnosing the issue
Billing & Account Support
As a Digital West customer, you'll receive a monthly invoice sent to your preferred email address(es). You can pay via regular mail or use the link contained within the email to pay online. You can also save payment information to allow for easy one-click payment on future bills and avoid late fees.
If at any time you have billing questions or need to update your account information, you can call us at (888) 781-9378 for Business or (833) 373-9378 for Residential.