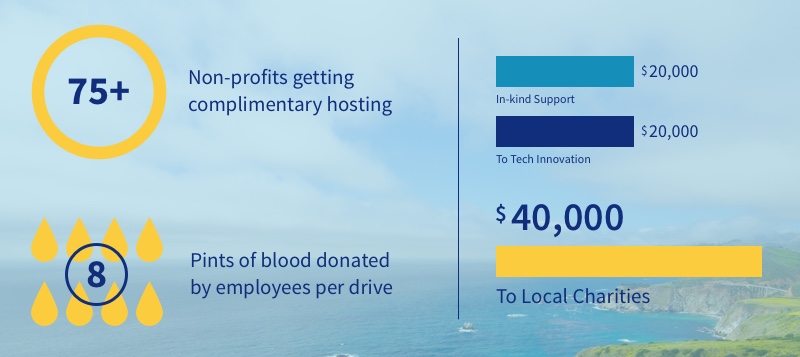 We believe that all sectors of the community need to be strong for the community to thrive: businesses, higher education, government and non-profits. That's why, in addition to helping grow the economic vitality of the San Luis Obispo through our service to businesses and work with local municipalities, we place a high value on giving back. Each year, through corporate and in-kind giving, event participation and employee volunteerism, we support a wide range of local charities, technology initiatives and community organizations.
Charitable Support
In addition to volunteering, serving on boards and participating in local events such as the Strike Out the Stigma Bowl-a-Thon, we contribute in excess of $40,000 to local charitable organizations.
We have five members of Rotary on our team and are always looking for opportunities to help our community and the people who live here.
Supporting Technology Innovation
As a company, Astound Business Solutions Powered by Digital West has invested heavily in building the technology infrastructure necessary for area businesses to grow. When we saw the void going unfilled for pure fiber optic connectivity, we took the initiative to create a Metro Fiber ethernet loop all around San Luis Obispo. We continue to expand fiber access to surrounding communities, as well as provide support to technology initiatives such as the SLO HotHouse.
Partnering with Local Non-Profits
Non-profit organizations continually struggle to balance spending with fund raising, yet having a web presence is crucial to their marketing efforts. We want to help organizations that help others, which is why we provide complimentary web and email hosting to over 75 non-profits in San Luis Obispo County.
"We truly appreciate your generous donation of hosting services for our grass-roots, non-profit organization."

– Susan, PEAK

"We use Digital West at Jack's Helping Hand and we are always impressed with their customer service and how responsive they are to any request!! I would highly recommend them!"

– Karen, Jack's Helping Hand

"Thank you for all your company does to make it possible to support our free library programs."

– Karen, Morro Bay Book Discussion Group

"Thank you so much for all of your support!"

– Paige, Women's Shelter Program of SLO

"We appreciate the tremendous service you provide to the community."

– Richard Hawley, Executive Director, Greenspace – The Cambria Land Trust