We understand the challenges small businesses face, so we've taken the same cutting-edge technologies we use with our largest customers and made them available to small businesses, keeping you competitive both regionally and globally. You'll get all your technology needs met under one roof – Internet, phone, email and more — and the convenience of one bill. Best of all we're here for you. We have a live, local support team eager to help you any time of the day or night.

We've got everything from low cost Internet connectivity to high speed fiber optics with symmetric up- and download speeds starting at 100/100 Mbps. Don't know where to start? Don't worry, we're here to help you figure out the best option based on your location, business size and operational needs.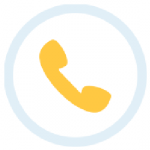 Choose from traditional analog lines or more advanced calling, like SIP trunks or PRIs. Both with unlimited in-county calling and 1000+ minutes of long distance. On-net Hosted/Cloud VoIP systems and traditional on-premise systems also available.

Ready to take it up a notch? We've got more of the world's most advanced digital technologies, including colocation, cloud services and digital marketing resources. Whether it's creating a website or getting keeping email secure, you can get it all here.