IT Security is no longer just a concern for Fortune 500 companies; every business should be taking active measures to limit information security risks and protect their assets. There are dozens of ways that hackers can gain access to business data — cracking weak employee passwords, using phishing strategies to install malware, and exploiting vulnerabilities of unapplied software patches. Using the most advanced intrusion detection scanning tools, Digital West can identify security risks and vulnerabilities and take proactive steps to remediate them.

Organizations with at least one successful attack causing serious harm.
IDC Security Overview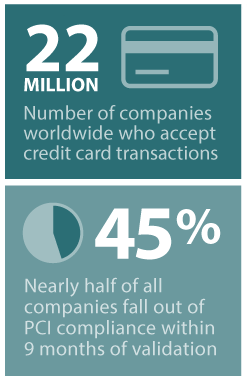 Our sophisticated security program is multi-faceted and includes:
If you're concerned about information security at your business, Digital West offers a free vulnerability scan. With it, we will:
Scans your network for basic security gaps and vulnerabilities
Proactively monitoring your network 24/7/365 to maximize your uptime
Isolating network issues and expediting the repair process
Deploying system scanning tools
Troubleshooting and case escalation
Providing overnight customer-premise equipment replacement
Physical security at our data center (e.g., biometric screening)
Evaluating your needs, designing solutions and managing the deployment and turn-up process for you
Staff training and education around security issues
Setting up two-factor authentication
SOC 2 Type II compliance
Disaster Recovery planning
Vulnerability Assessment & Reports
Receive real actionable intelligence reports to help determine which issues take precedence
Compare multiple data points to uncover hard to detect issues
Receive risk reports, management plans, full detail reports and a range of other specialty reports
Perform comprehensive HIPAA risk analyses and generate a complete set of HIPAA Compliance documents
Stay in compliance with the PCI Data Security Standards (PCI DSS)
Perform deep dive layer 2/3 analytic scans and deep dive change reports
Perform ad hoc diagnostic testing
Receive daily alerts on internal IT security issues
Scans can be completed in less than an hour
Additional Resources
Digital West also offer a variety of resources, including webinars, white papers, videos and blog posts, with tips on maintaining a secure work environment. Subscribe to our blog or review our Smart Papers to access these and other free resources.