Digital West introduces MetroVoice, our cloud-based telephone system. MetroVoice is a unique On Net solution that provides your business with a unified communications platform that includes a phone system provided with no upfront cost, full business calling features, softphone capability, mobile apps, collaborative applications (such as web conferencing, IM, video chat), online integration, full administrative functions and more.
With benefits like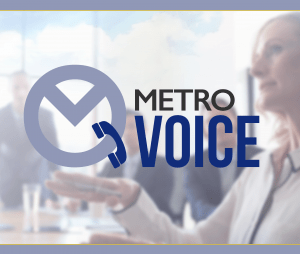 flexibility, scalability and cost-savings, cloud-based telephone systems like MetroVoice will only continue to expand into standard technology in business communications. Robust features that often surpass landline functionality drive small to enterprise-sized businesses to move to the cloud (VoIP, telephony, voice over broadband).
MetroVoice  provides a seamless way to communicate with your team efficiently without disrupting your day or business processes. Our cloud-based phone platform gives you a great opportunity to expand the reach of your business, facilitate off-site team work and impact the ease and cost in the way you do business today.

MetroVoice actually gives your business more features than an on-premise phone system but at a lower cost! And, by controlling our On Net engineering end-to-end, MetroVoice gives you the best voice quality possible.
We offer three cloud phone solutions that quickly scale to the size and needs of your business. Our On Net engineering gives you speed, clarity and security you won't find anywhere else.
One Solution, Three Packages
MetroVoice Standard
You may be a small business, but your customers don't need to know that. The MetroVoice Standard package gives you auto-attendant features so customers reach "sales" or "billing" or "customer service." Plus, you can keep your personal cell number limited to family and friends, but still have your business number ring to your mobile phone.
Telephone
Caller ID
Call Waiting, Hold & Park
Paging/Intercom
Call Transfer
User Portal
Voice Mail to Email
Receptionist Features
Click to Dial
MetroVoice Business
The MetroVoice Business package provides the phones, upgrades them automatically, and programs your entire system over the Internet – why pay for on-premise landlines and phones? No more big ticket capital expenses, on-site techs or costly repairs. Get the collaboration tools to keep your team efficient, like IM, CRM integration and presence.
All Standard features, plus
Desktop Client
Mobile App (IOS, Android)
Instant Messaging
Outlook Contact and Presence Integration
Video Chat
CRM Integration
MetroVoice Professional
You get all the communication infrastructure bells and whistles the cloud provides with the MetroVoice Professional package. For companies with a remote workforce or multiple locations, your off-site team has access to the same tools your on-site staff has. We'll quickly scale your service up or down depending on your users.
All Business features, plus
4-Way Web Meetings
Uplift to Web from IM
Share Screen, Voice & Content
Hunt Groups
Music on Hold
Remote Desktop Control
Outlook Calendar Plug-in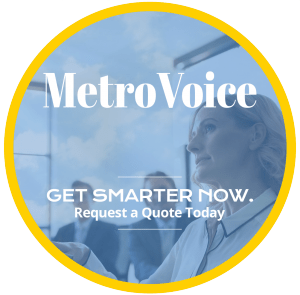 Business Level Add-On Features
Administrator Portal
Music on Hold
Multi Line Hunt Groups
Call Pickup Groups
Call Logs
Easy Attendant (Auto Attendant)
A la Carte Add-On Features
Premium Attendant
ACD (Call Center – Agent Seat
ACD (Call Center) – Supervisor Seat
Custom music on hold
Call Recording
Audio Conferencing
Enhanced Collaboration (Up to 50 Participants)
Receptionist Soft Console
With each MetroVoice package, we configure your call routing and perform regular upgrades over the cloud, all for one monthly rate. And you'll have round-the-clock access to our local customer service team should you ever need it!
Using the MetroVoice cloud system empowers you to make your own programming and system changes; there's no more need for on-site tech staff or service calls. And when it's time to upgrade your physical phone system, we replace it at end-of-life at no additional cost.
Engage customers while saving money: Typically, businesses see an average of 50 to 75 percent savings when they switch from landline services to VoIP.

2017: Tech.co; Toolbox, VoIP Desk
How MetroVoice Works
With our unique On Net engineering, our cloud phone platform runs all your voice data through a PBX switch in our own data center. Your voice data is delivered over the same networks we use to provide your high-speed Internet connection, but we prioritize your voice data over all other data on the network. Digital West controls all points of connection – from your business call to your recipient. This makes your On Net connectivity and voice quality with MetroVoice unparalleled in security, clarity and reliability. And as usual, you have a 24/7/365 expert and local customer service team to help you every step of the way.
Smarter is Here – choose the MetroVoice package for your business needs today! Request a quote or learn more about MetroVoice. We're here for you, so let us know how we can help you with your business needs!