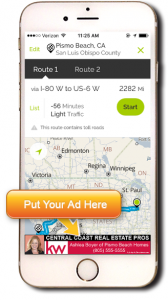 Eighty-five percent of all online ads are viewed on mobile devices, and now you have the ability to target customers with pinpoint precision using Digital West's mobile advertising platform.
Instant and Easy Mobile Advertising
You choose the zip codes where you want to advertise
Display on 90,000+ popular mobile apps
Benefit from both proximity- and search-based ads
A branded landing page to capture visitor contact info
Easy-to-use interface
Up to 10,000 impressions per zip code, per month
Price ranges from $95 to $115 (before discounts) per zip code per month
Dashboard reporting
An affordable, effective marketing strategy
Easy Sign Up
Whether you own a restaurant, ad agency, retail store or real estate business, mobile advertising is a great way to reach potential customers. If you're affiliated with Keller Williams, choose the sign up icon below on the right. Everyone else, click the lower left icon. See our FAQs to learn more.
Keller Williams Approved Vendor Program members are business entities independent from Keller Williams Realty, Inc. Neither Keller Williams Realty, Inc. nor its affiliated companies warrant Digital West, their products, or their services.