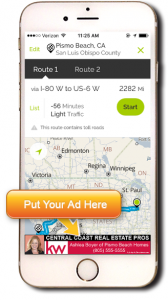 Eighty-five percent of all online ads are viewed on mobile devices, and now you have the ability to target customers with pinpoint precision using Digital West's mobile advertising platform.
Instant Mobile Advertising
You choose the zip codes where you want to advertise
Display on 90,000+ popular mobile apps
Benefit from both proximity- and search-based ads
Up to 10,000 impressions per zip code, per month
An affordable, effective marketing strategy
Whether you own a restaurant, ad agency, retail store or real estate business, mobile advertising is a great way to reach potential customers.  See our FAQs to learn more.
A Sampling of Where Your Ads Can Be Displayed