Connecting Businesses and Carriers in California and Beyond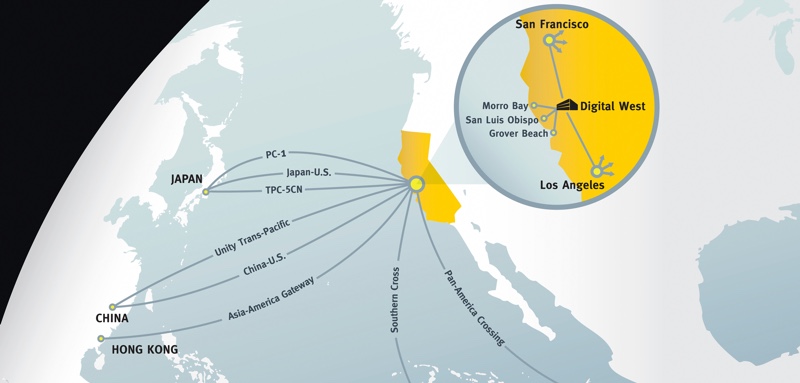 Multi-location Businesses & Franchises
Digital West provides network management services to businesses in California, the US and beyond in conjunction with our global data centers and our partner carriers.
Carriers
Carriers across the globe require increased bandwidth due to the growth of cloud-based applications, mobile computing and streaming media. Digital West provides IP and network transport services for national and international carriers, large content providers, data center resellers and more.
Our Data Center brings all three of the major Cable Landing Stations on the Central Coast within reach, connecting the Pacific Rim and Southern Pacific countries and Hawaii to the U.S. mainland. We operate a 100% pure fiber optic network, backed by a robust SLA that ensures high performance and 99.99% network availability for your customers.

The year when annual global IP traffic reached nearly a zettabyte
Cisco
Carrier-grade: Carrier-class reliability, capacity, and scalability
Low Latency: Direct connections between California, Australia, China, Fiji, Guam, Panama, Hong Kong, New Zealand, South America and Singapore
Trans-Pacific Redundancy: Diverse routes between all Cable Landing Stations and across sub-sea systems
Carrier Neutrality: Carrier neutral access to transpacific and terrestrial providers
Dependable Service: 24/7/365 monitoring, maintenance and live tech support from our NOC team
Cost Effectiveness: GigE, 10G, and LANPhy wavelengths, Dense Wavelength Division Multiplexing and traditional SONET/SDH service options
Flexible Configurations: Protocol-transparent point-to-point, point-to-multipoint, and multipoint-to-multipoint configurations
Bundled Solutions: Colocation, managed networks, virtual servers and data storage services available
Carriers We Work With