As a large organization, you've been "doing IT" for a long time and you likely have engineers, developers and other IT staff on board. Your challenges may include keeping your operating and capital expenses in check, finding qualified (affordable) IT personnel, keeping up with ever-changing technologies and maintaining strong security. At Digital West, we've worked with hundreds of enterprise companies – franchises, government, utilities, banks and more. We work with you to find efficiencies in your systems, make them more secure, plan for growth and reduce IT costs.

Our customer bench is deep in certain industries, and we've helped clients with everything from faster Internet, legacy system migration and network management to virtualization, office productivity and security.

We've got everything from low cost Internet connectivity to high speed fiber optics with symmetric up- and download speeds starting at 100/100 Mbps, not to mention Carrier Transport services to keep all your locations networked and secure.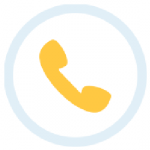 Choose from traditional analog lines or more advanced calling, like SIP trunks or PRIs. Both with unlimited in-county calling and 1000+ minutes of long distance. On-net Hosted/Cloud VoIP systems and traditional on-premise systems also available.