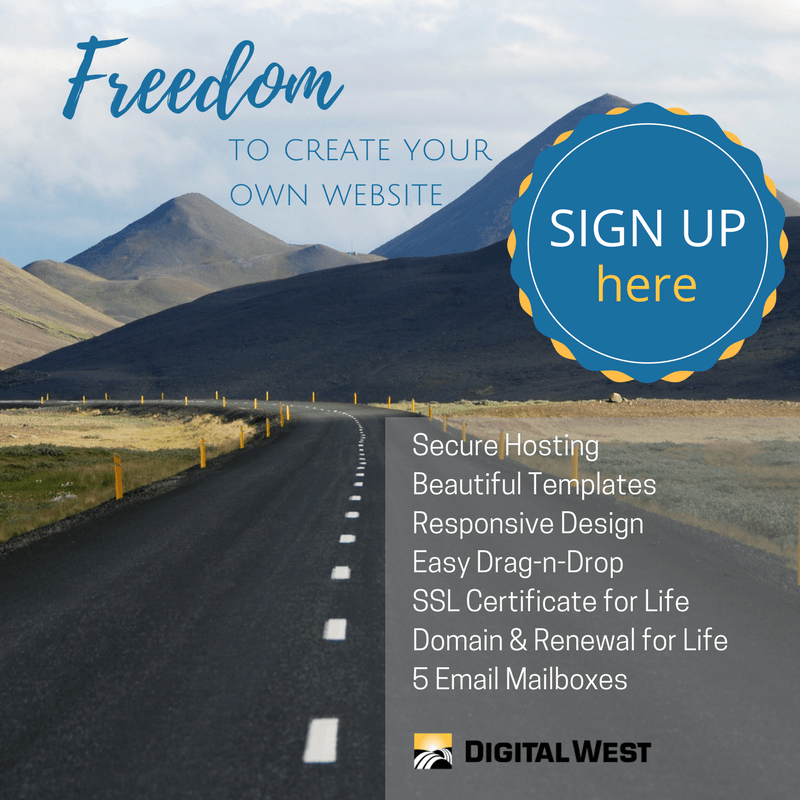 Your website is the engine that keeps your business running, helping you to attract new customers. At Digital West, we offer affordable website and email hosting packages that include all the bells and whistles other providers make you pay extra for, like domain registration, hosting, SSL certificate, branded email accounts and 24/7 live, local technical support. Choose from a simple, all-inclusive website builder package or an advanced, hosting-only package.
Web Builder Plus is truly a do-it-yourself program, which is one of the reasons it's so affordable; design, setup and configuration support are not included. To understand if this package is right for you, click here.

Web Builder Plus
Our easy-to-use Web Builder Plus suite is perfect for small businesses that want to create and update their own websites. With our surprisingly simple drag and drop website builder, you don't need to be an expert to create your own website. You'll have access to the latest design templates and the responsiveness of a modern, HTML5 site! This is a great package for all the "do it yourself-ers" out there; you design everything — from start to finish. Sign up now!
Drag and drop website builder
Beautiful templates and mobile-responsive design
Free domain for the life of account
100 GB storage for hosting
Unlimited bandwidth
5 email mailboxes with 4 GB storage/mailbox
Free SSL Certificate for the life of the account
Optional upgrade to an ecommerce site
$30/month (or $25/month with annual prepay)
$25 one-time set-up fee

Secure Hosting
We also offer a Secure Web & Email Hosting package that's geared to enterprise companies, web developers or website re-sellers who manage websites on behalf of their clients. This suite offers cPanel and FTP access, backups and up to 20 email mailboxes, but without the drag and drop back end. The perfect choice when you want a secure hosting environment to manage your own resources. Sign up now!
Access to cPanel, the industry's leading control panel
100 GB storage for hosting
Unlimited bandwidth
Daily Backups with a 30 day retention
20 email mailboxes with 4 GB storage/mailbox
24/7/365 live, local customer service
You migrate your own data or we can do it for you for a one-time fee
$25/month (or $20/month with annual prepay)
$25 one-time set-up fee
Just need email? We also offer an Email Only service. It's 10 email mailboxes at 4 GB/each for $20/month.


Domain Registration
Need to purchase a new domain name? You can find and register for the perfect one through the Digital West Storefront. If you're signing up for our Web Builder Plus package, you'll receive up to a $15 credit on your first invoice when you purchase your domain through the Storefront. If you're signing up for Web Builder Plus and you already have a domain, you can use the Storefront to transfer your domain from your current hosting provider to Digital West.
Customer Login
Already have an account? Log in to cPanel at cpanel.digitalwest.net
Please read our Acceptable Use Policy
Please read our Terms of Service for Web & Email Hosting before completing your transaction.